Company Name
Contact Info
Location

B. S. M. BURSA SEVİNÇLER MAK. SAN. TİC. LTD. ŞTİ.

YAYLACIK MAH. (470) 50. SOK. NO: 37/2 / / BURSA / TÜRKİYE

Hall: 2

Stand: 211/B

Product Groups

Metal Sheet Processing Machines
Sheet Metal Processing Machines
Surface Technology
Company Info

Products

Represented Companies

Company Brands
Bursa Sevinçler Makina was established in Bursa in 1985 for the production of custom design machines. Our company, which continues its production by adding hydraulic presses and hydraulic apparatus, has expanded its production range by starting the production of sandblasting machines in 1994. Our company, which does not compromise on quality and production standards, has achieved its targets to a great extent with its principled working approach. It sends a certain proportion of its production to users in countries such as Iran, Germany, Russia, Bulgaria, Yemen, Kazakhstan, Belarus, Azerbaijan, Syria, Bosnia and Herzegovina and Israel. Our biggest goal is to strengthen BSM s place in the world market without sacrificing the system and to bring it to the forefront. Our company has proven the importance it attaches to its customers with its 24/7 service approach and led the way in its sector with a 5-year service guarantee in its deliveries. While exhibiting its current technology in the national and international fairs it participated in, it closely followed the sectoral technological innovations and accelerated its R&D works with the innovative company approach in the sector. It continues to add new ones to its production range with the target of at least 2 different projects every new year.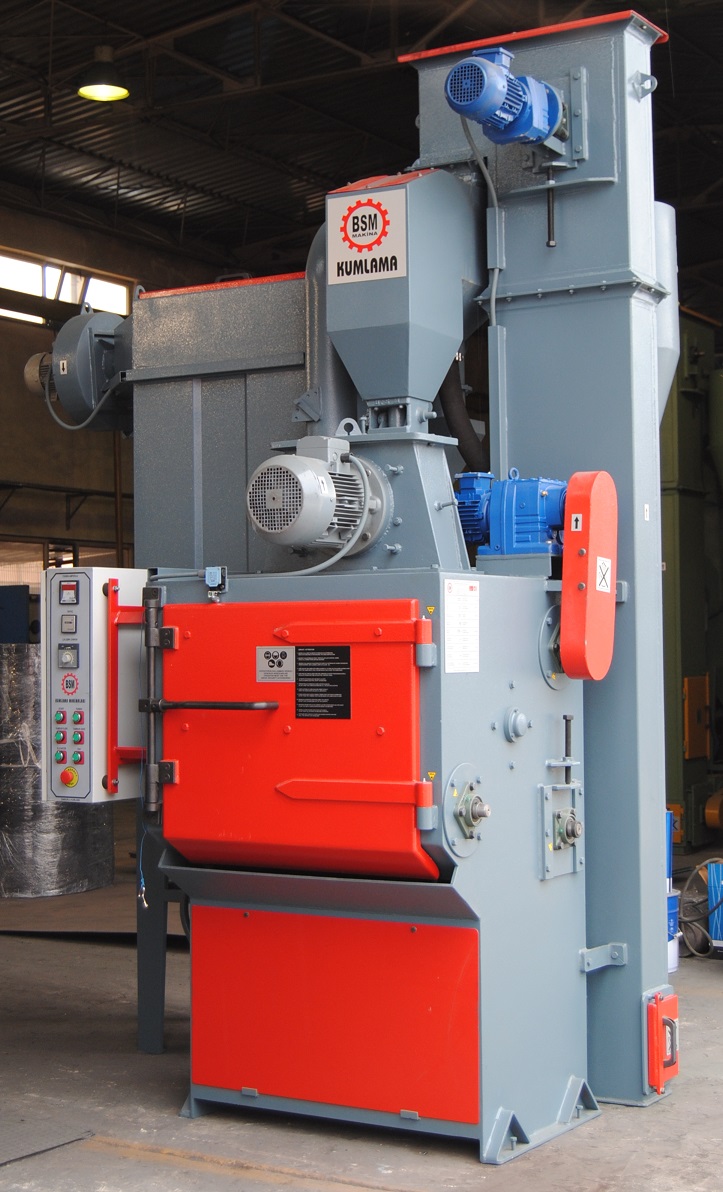 DRUM SANDBLASTING MACHINE
DRUM SANDBLASTING MACHINE
PRODUCT DESCRIPTION:
Usage Areas It is used in preparation before paint and rubber coating by making surface roughening of the sheet metal parts that came out of the press, in removing the scales of hot forged parts, in the revision of old parts, in cleaning aluminum injection molding and brass forging parts, and in removing the tension of compression springs. Our product range, which varies according to the work capacity, is available in 100 kg, 250 kg, 350 kg, 600 kg, 800 kg.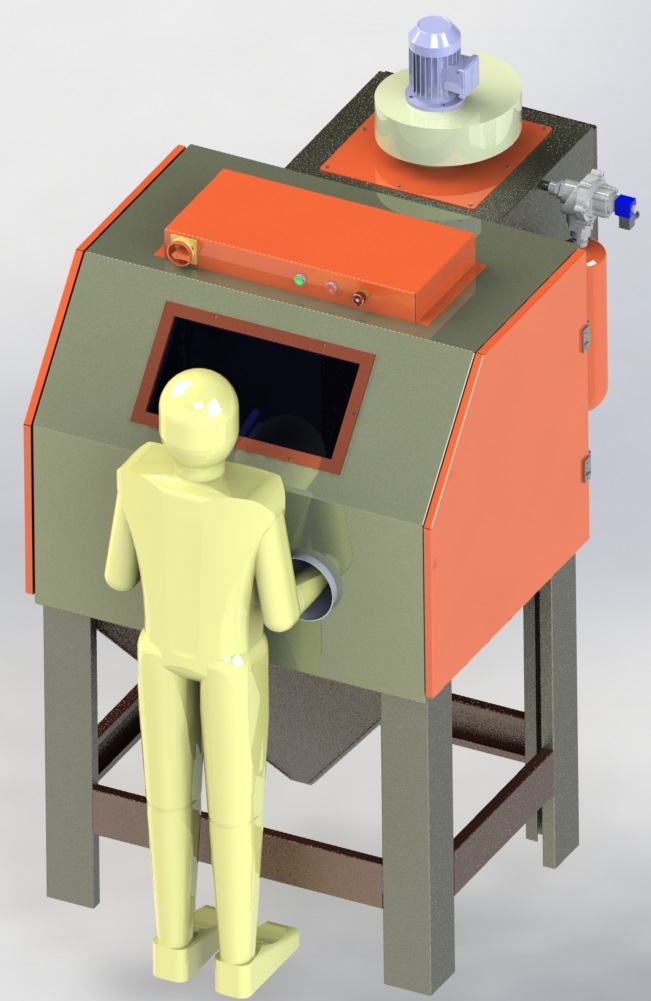 SANDBLASTING MACHINE WITH CABINET
SANDBLASTING MACHINE WITH CABINET
PRODUCT DESCRIPTION:
THE OBJECT OF USING SHOT BLASTING MACHINES the main areas of application are: surface preparation for metal plates before painting and rubber coating, descaling of hot forged parts, revision of old parts, cleaning of parts made from aluminium injection, by casting or made from brass, relieving the tension of press springs. The cleaning of oxides, sand from casting and descaling and pre painting preparation of all type of cast iron, red iron, aluminium, steel cast, large size steel parts.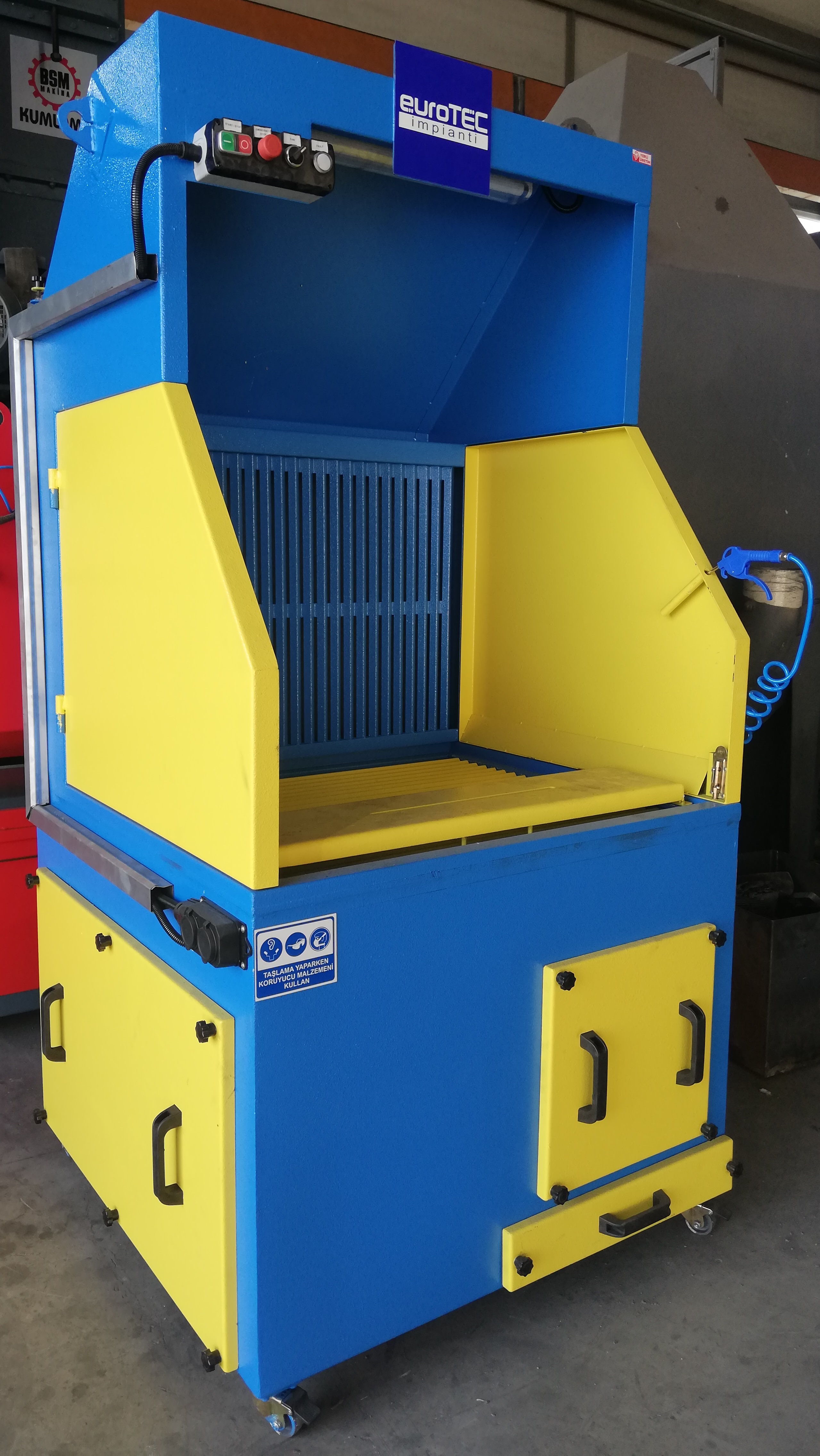 GRINDING AND WELDING TABLE
GRINDING AND WELDING TABLE
PRODUCT DESCRIPTION:
In businesses with welding and grinding processes; It is used to eliminate welding fumes, grinding burrs and dust from the environment by sucking air from the grilles on the cabin and to provide clean air to the environment. Additionally, there is no need for a filtration system or chimney.
No represented companies found.
The company has no registered brand information.